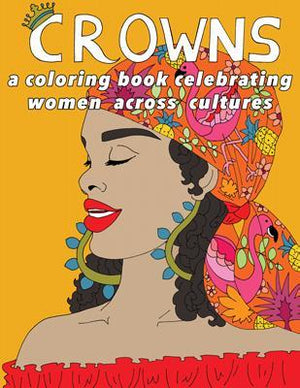 CROWNS: a coloring book celebrating women across cultures
Sale price Price $10.00 Regular price $12.00
I'm so passionate about self-care these days; we deserve to relax y'all! Women are out here carrying the weight of the world, and coloring is an awesome way to put that weight down, plus it's just really fun!
CROWNS is an adult coloring book celebrating women across cultures. From head wraps to hibjabs, headphones to church hats, each hand drawn illustration in CROWNS covers the many ways that women adorn their heads, and is an ode to the beauty of us all. 
CROWNS: a coloring book celebrating women across cultures, features:
14 Illustrations - all in line art without shading so you can feel free to color the way your heart desires
1 Blank test page - so you can test those colors without too much commitment
110 gsm paper - those colors won't be bleeding through
5.5" x 8.5" - the size of a paper back book, so it will travel easily
Tuesdays are our shipping days. For example if your order is received on Wednesday, it will ship the following Tuesday. If you need a rush order please contact us at crownscoloringbooks@gmail.com.